Acoustic
Acoustical coverings
stone coverings
The walls Main hall of the prestigious University "Luigi Bocconi" in Milan are covered with acoustic "Serena" stone panels (0.9 x 2.4 meters in vertical position). The innovative idea to combine the stone, worked with a special technology, with acoustic characterizes the room both in terms of technology and architecture.
The "acoustic - decorative" covering is made up of stone monoliths, combined with an aluminum structure with a honeycomb core. They are supported by a box-like structure in folded steel sheet and hooked to the structural part of the building.
To meet the acoustic requirements, we created vertical interspaces between the stone panels (bass traps): we used a black glass sheet on the lower part and a brass sheet on the sides.
The careful study of the sound-absorbing and soundproofing system, combined with the proper installation of materials, have allowed the success of the work both in terms of acoustic and aesthetic qualities.
The wall covering system is made up of different materials, separated by high density foam mattresses and "silent block" gaskets, that have determined the highly technological response of the project.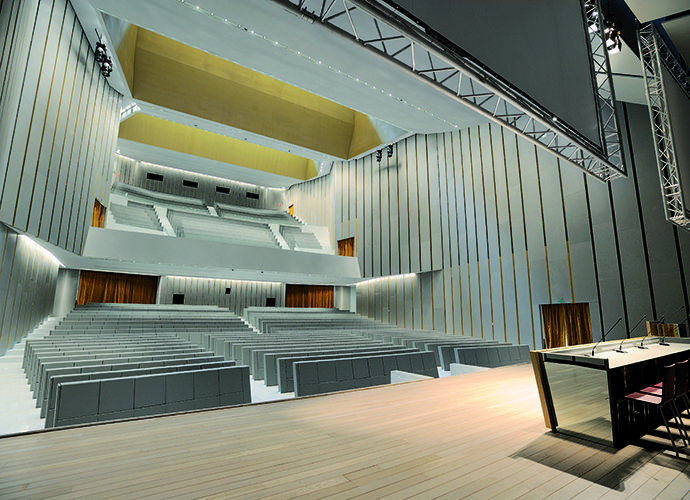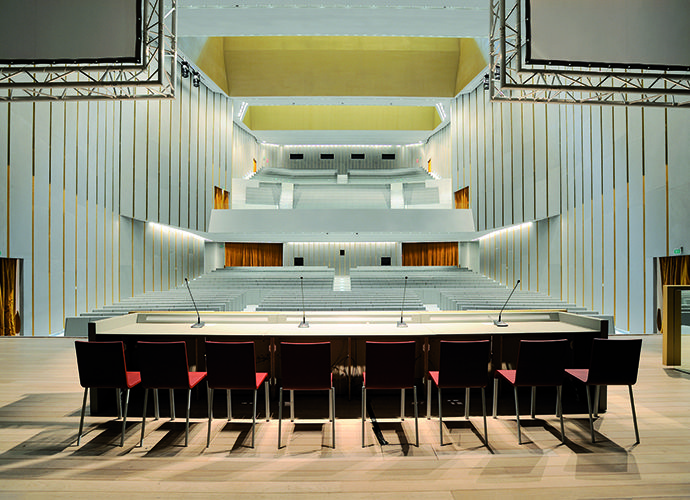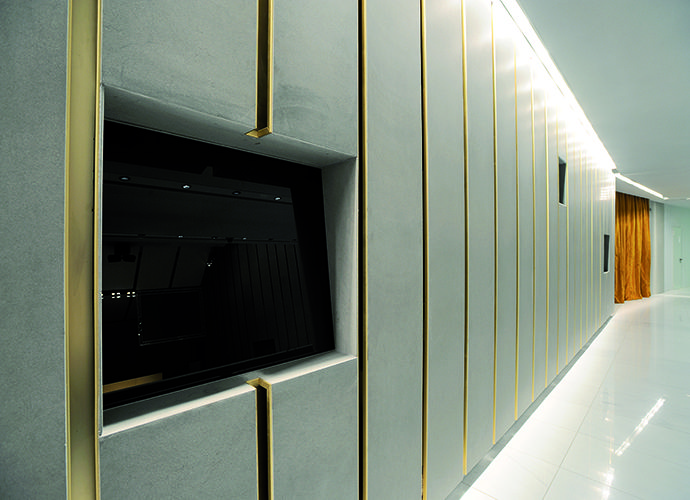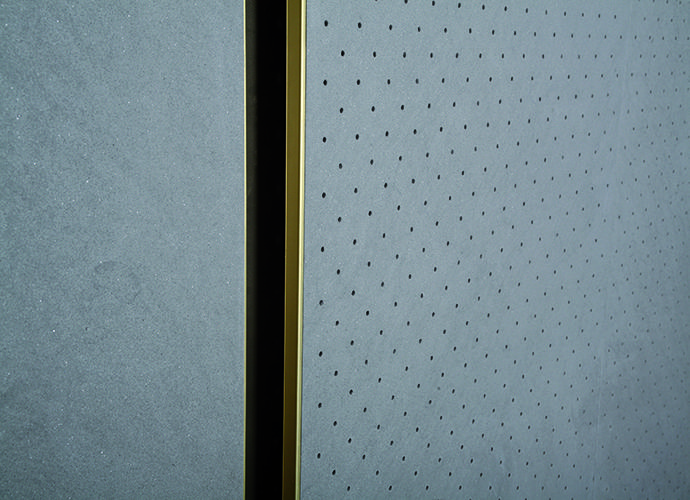 wooden coverings
Regional Theatre of Aosta
In order to create the perfect acoustic of the Regional Theatre of Aosta, we designed and realized a combination of different types of wood panels.
Sound-absorbing, sound-reflecting and sound-diffusing panels are alternated throughout the room, between the walls and the ceiling: from smooth to perforated surfaces and from curved walls to adjustable slats.
The inclined ceiling, with a smooth sound-reflecting surface, is made up of a MDF fireproof wall covering. We used a smooth, phono-reflecting wooden wall for the side walls and the front of the orchestra pit.
Aesthetically, the coverings consist of a modular mesh of panels (each one of 92x180), installed side by side on a wooden frame with an interspace filled with incombustible rock wool; to these coverings we added a wooden wall consisting of an alternation of smooth and micro-perforated convex panels, with an appropriate curvature and a sound-absorbent and a sound-diffusing surface, for the back wall of the orchestral pit.
In the hall we also installed wooden walls with sound-diffusing and sound-absorbing slats and perforated wooden acoustic walls with a percentage of soundproofing of 19%.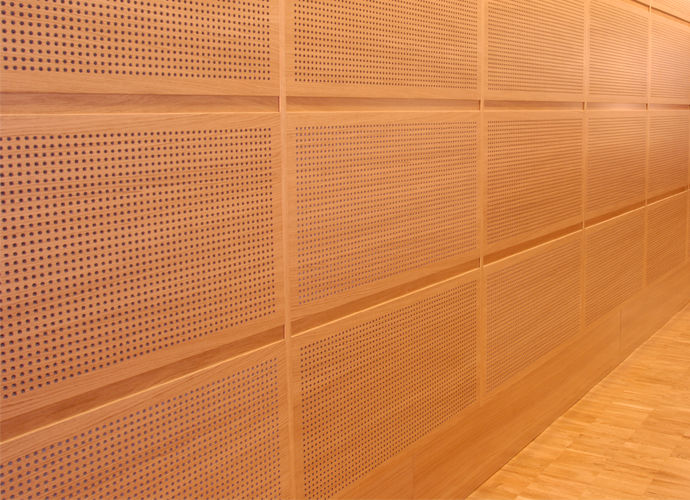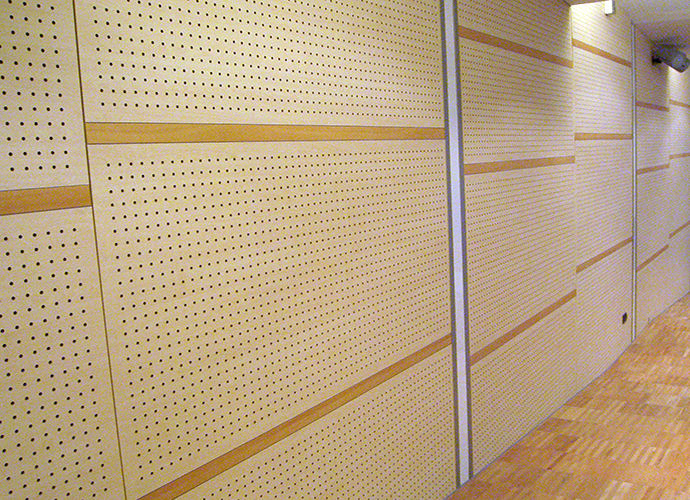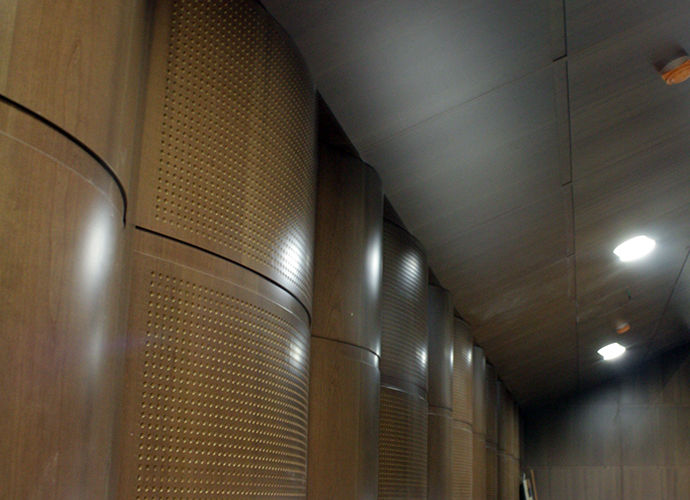 VARIABLE ACOUSTIC PANELS
Panels with a double configuration: a reflecting side and an absorbent side. Possibility to modify the acoustic configuration of the room in a timely manner.
In particular, the realization at the "Sala del Ridotto" of the Regional Theater of Aosta.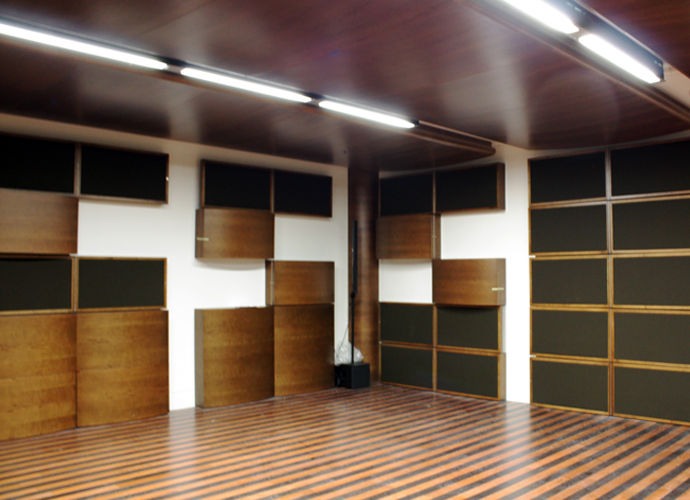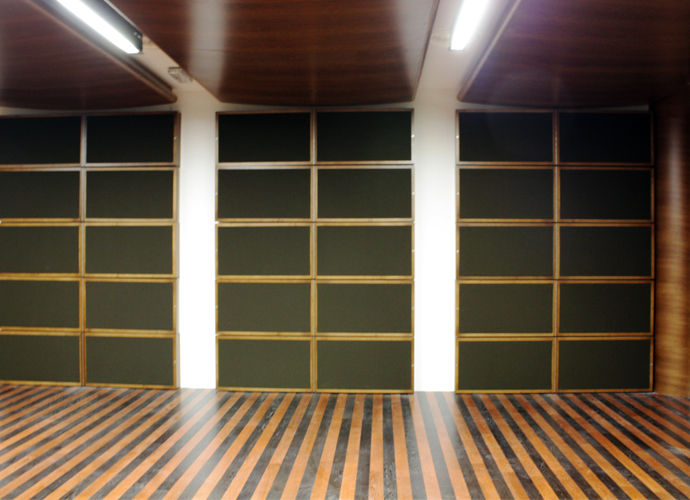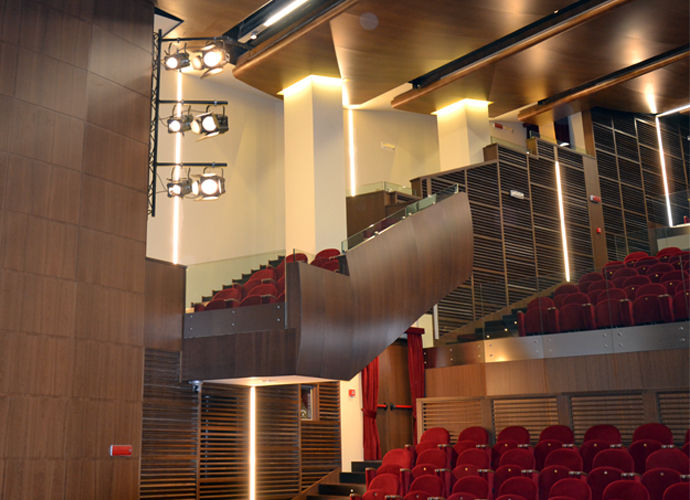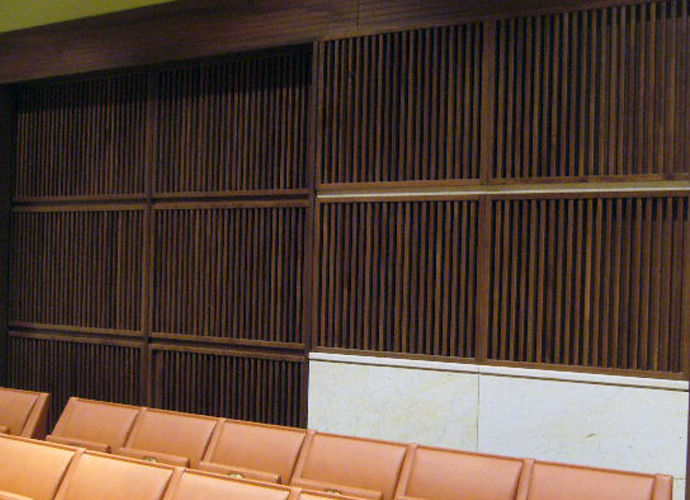 PROSCENIUM ACOUSTIC VARIABILITY PANELS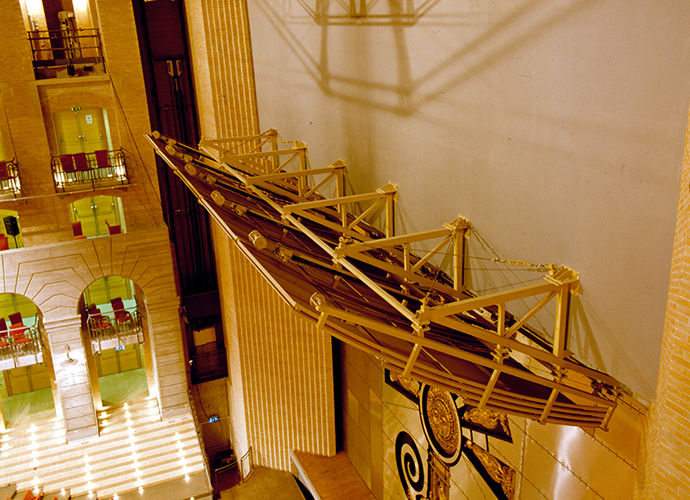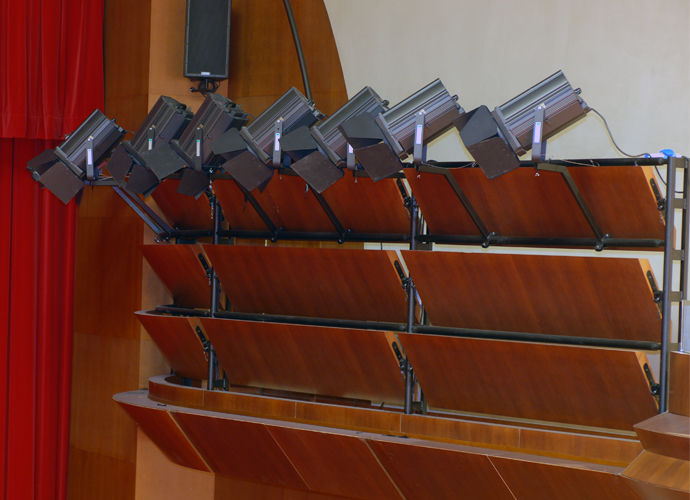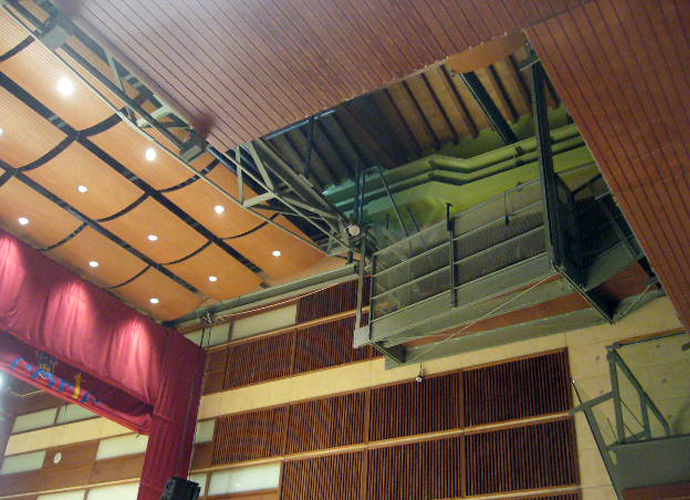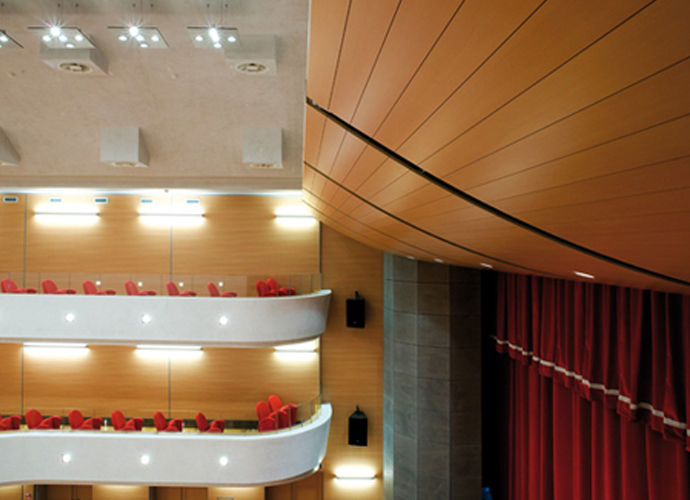 TEXTILES SOUNDPROOFING COVERINGS
The sound absorbing covering can be different: from velvet to textile with particular textures, with or without matress. Combined with other acoustic elements, such as wooden panels, they can determine the acoustic of the room.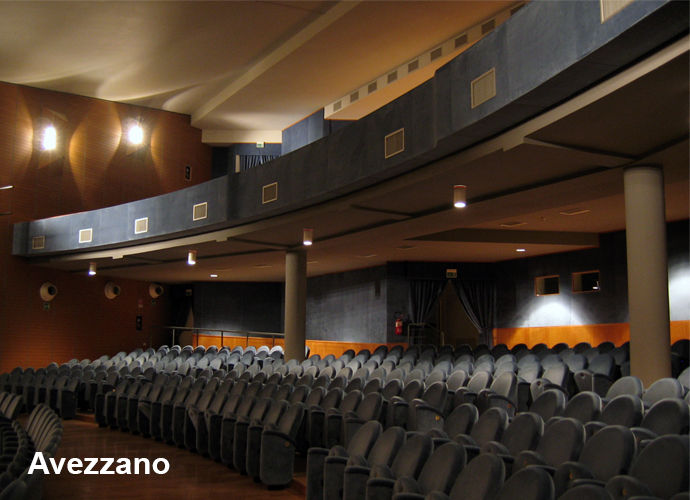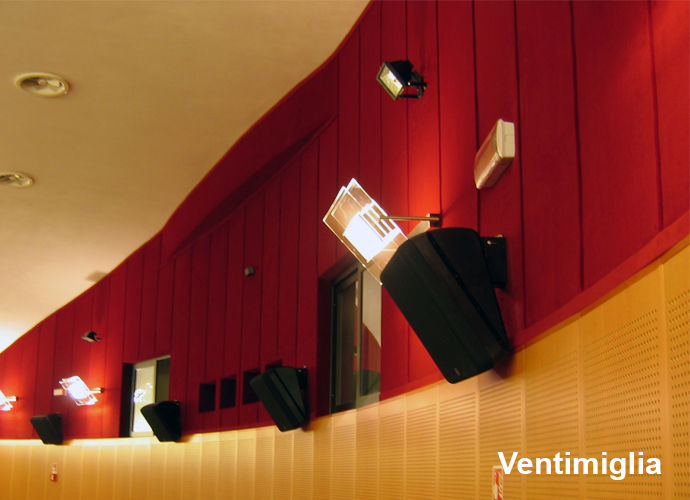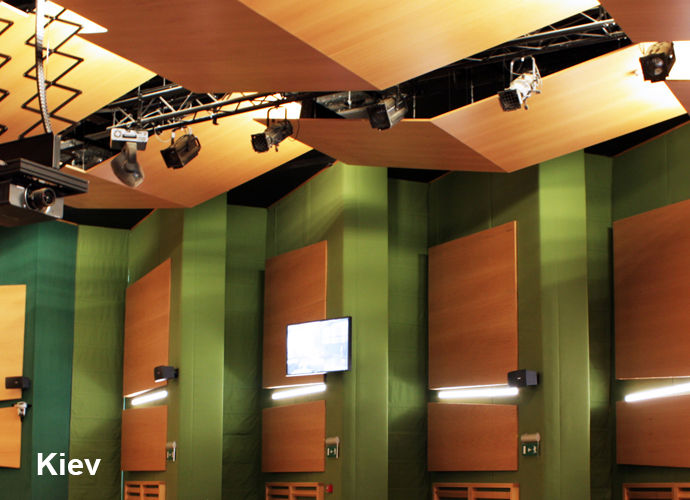 CORK-LEATHER COVERINGS