Scenery
Scenographies
Decima is highly skilled in design, supply and install theatrical scenery for multipurpose sets and different performances, into Opera Houses, Drama Theatres, Ballet and Concert halls. Our team is able to transform the ideas into reality, giving a technical aspect to what has been imagined for the show. We have skills to design and create the entire stage equipment, with different machines for special effects, enhancing the strength of each individual project. The spirit of the stage comes to life in creative and original solutions, meeting the practical and safety requirements both for technical operators and artists.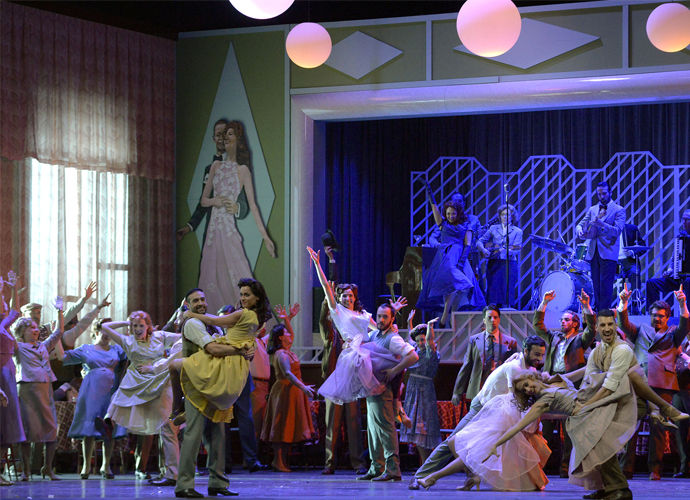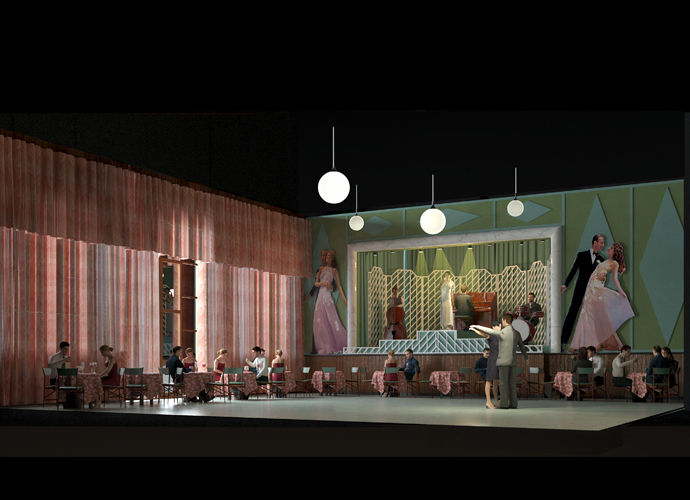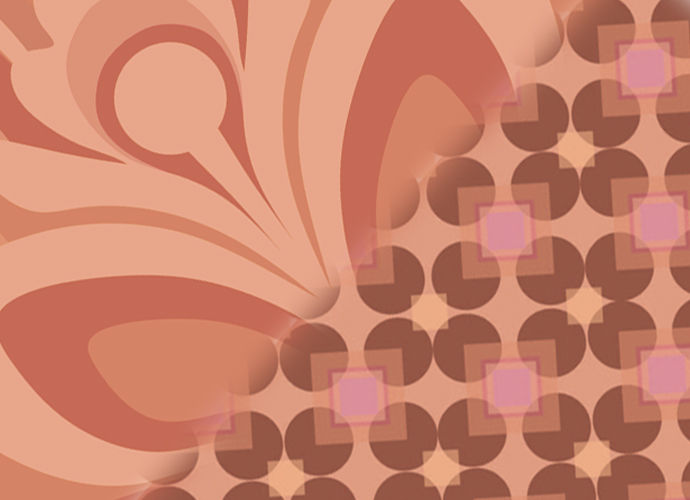 DIE LUSTIGE WITWE (THE MERRY WIDOW) - LA FENICE - venezia
FRANZ LEHÁR, DIE LUSTIGE WITWE (THE MERRY WIDOW)
february 2018
La Fenice Opera House
Conductor: Stefano Montanari
Director: Damiano Michieletto
Sets: Paolo Fantin
Costumes: Carla Teti
Light designer: Alessandro Carletti
Choreography: Chiara Vecchi
La Fenice Opera House new production
Fondazione Teatro La Fenice together with Fondazione Teatro dell'Opera di Roma co-production. Decima has reproduced three scenography for the Franz Lehár Operetta: a bank, a dance hall and an office, whole consisting of equipped walls on Wagons. Printed curtain and glass walls design, based on sketches of Paolo Fantin scenographer.

An imaginary kingdom like Pontevedro re-evoked in a sparkling ville lumière where the tragic-comic adventures of a series of characters that could come from our upper-class news columns take place, and a millionaire widow is encouraged to remarry owing to reasons of State while a young lady, as elegant as her name, tries to conceal a dangerous flirt. Die lustige Witwe blends the lightness and brilliance of the brushstrokes (a combination of publicity and the figurative arts) that characterise the work of Toulouse-Lautrec with the agitated, tormented lines of the women in Giovanni Boldrini's portraits. The result is a marvellous caricature of a society that lives off bubbles.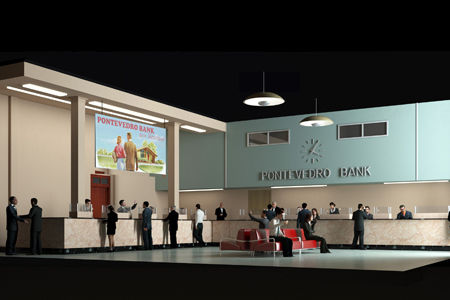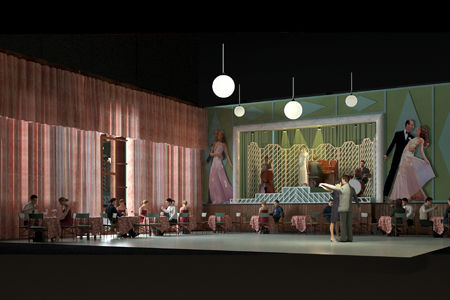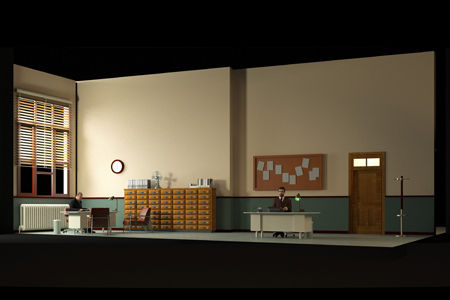 THE SETS PROJECT
The three scenes designed by Paolo Fantin are developed in Pontevedro Bank, in the Balera / Teatro Roma and in the offices of the Consulate.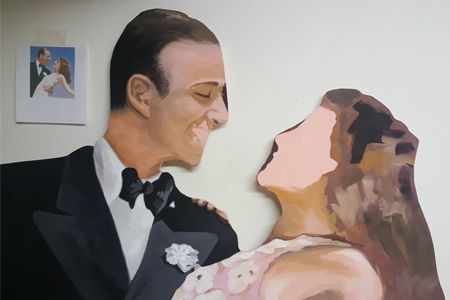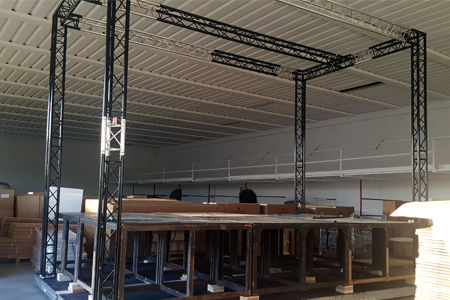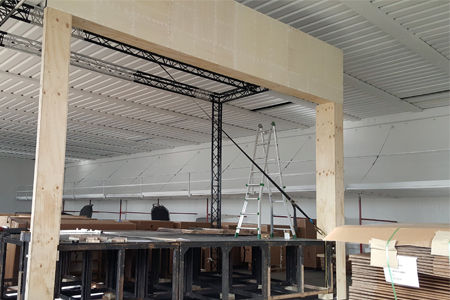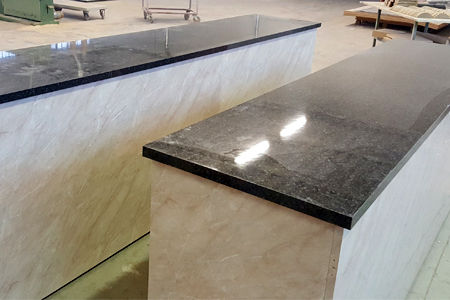 the construction
The realization foresee scene changes with open curtain by moving, raising and overlapping the various elements. The wooden walls has been mounted on wagons with wheels, painted and decorated according to sketches. The dancing figures, the decorative elements and the finishes of the balera are all in relief and hand painted, the stage with the musicians for the scene of the dance hall are realized with modular platforms and an aluminum ring suitable for fixing of perimetrical velvet curtains and stage lighting, also the half-timbered screens are made according to the designer's design and dimensions.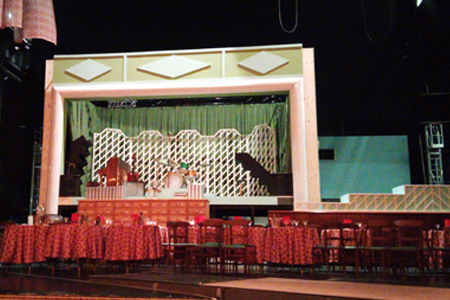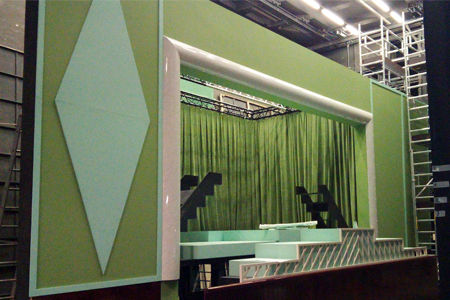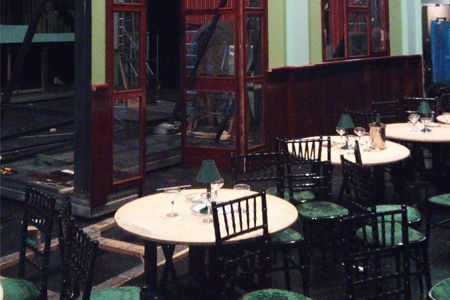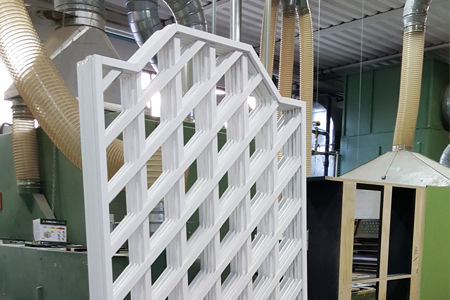 the installation
There in in the second scene a side wall with functioning access doors and windows, decorated with curtains printed as a specific design and colors defined with the sets designer, the transparency of the fabric allows to the lights to glimpse outside giving that sense of "window on the world".
We also made tablecloth prints with a colorful vintage fantasy.
The final scene that develops in the offices uses a part of the window wall of the balera and is completed with a long wall in two elements that fit together and which remain out of sight on the side until they are used.
All the above can be dismantled and transported in theatre stores.
acquagranda - la fenice - venezia
50 years later, La Fenice theatre wanted to recall the tragic event of November 4th 1966 Venice flood, with the drama in music "Aquagranda", which inaugurated the 2016-2017 lyrical season on the fiftieth anniversary.
Thanks to the scenes of Paolo Fantin, a wall of water was poured on the actors to recall those moments.
Decima designed and built the scenographic element of the "water window": the large tank, the polycarbonate wall that fills up in 45 minutes and then drains the water onto the scene in 2 minutes.
The large tank has been built with frames in aluminum trusses which form rectangular sections for the modular polycarbonate windows (10x3 meters). In each section we installed pumps to shake the water, exhaust valves ("slow mode" and "fast mode") and pumps for the dye injection. The project was completed by a perforated collection tank which created a rain effect.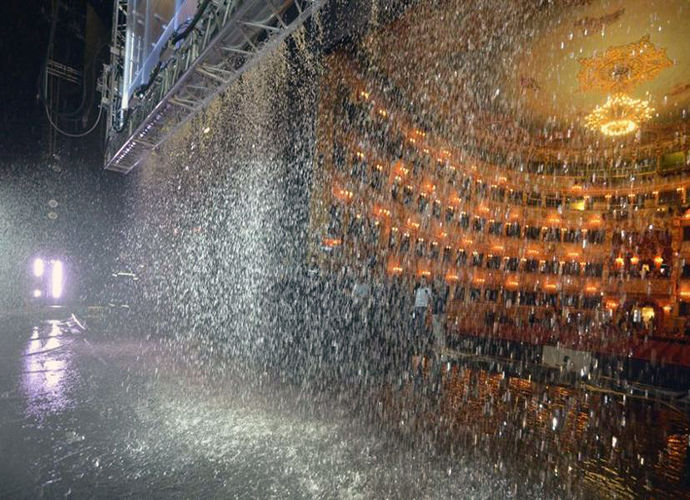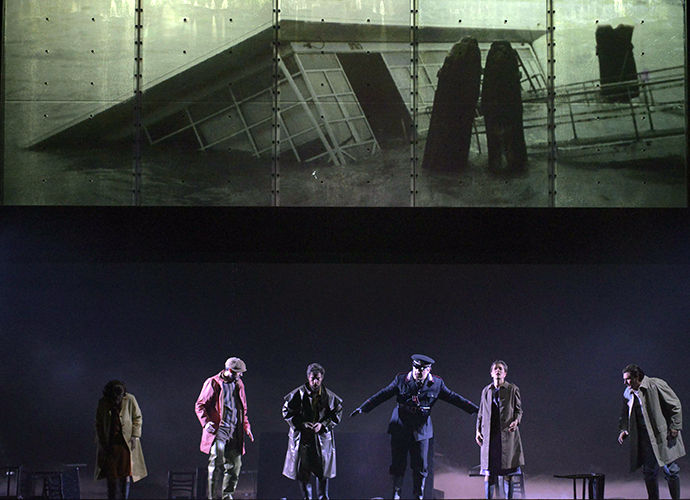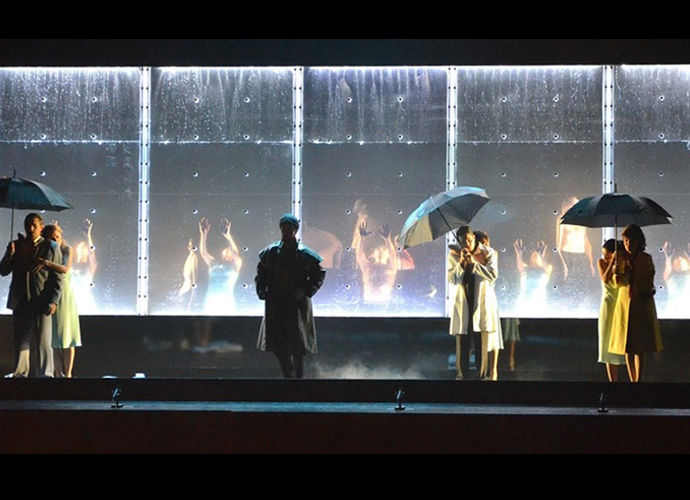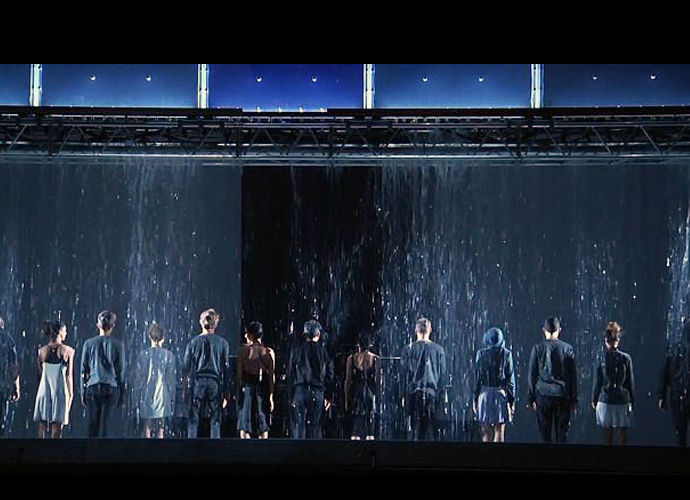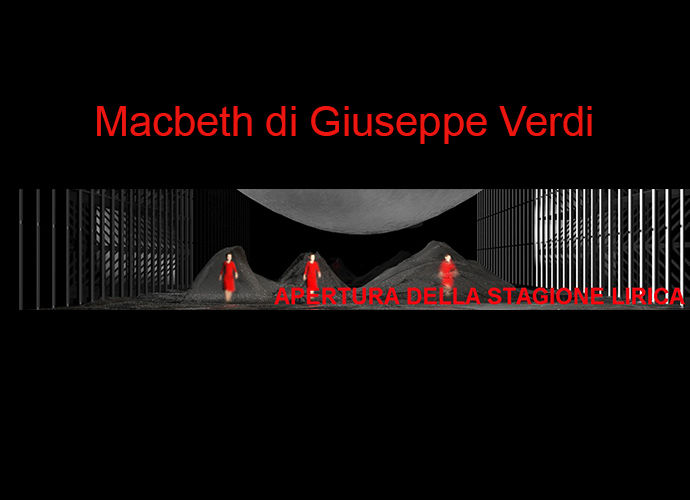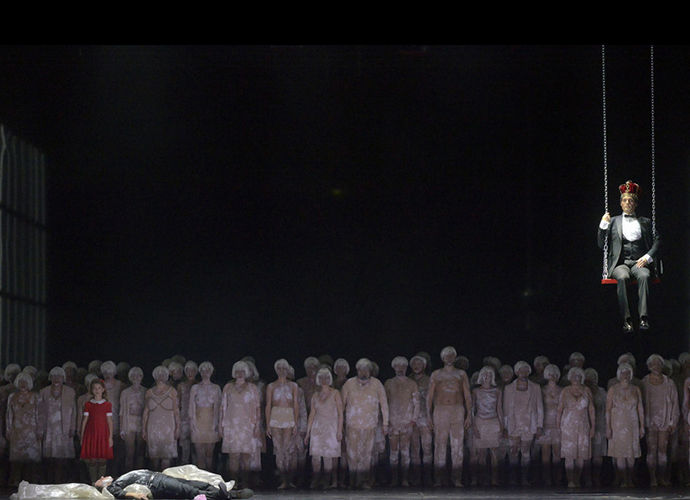 macbeth - la fenice - venezia
Once again La Fenice theatre, has required our Company Skills for some Scenography of the "Macbeth" by Giuseppe Verde, opening Opera of the new season.
Decima has created the lateral bearing structures together with the supporting track for lighting devices.
L'ITALIANA IN ALGERI - Sailing Ship - LA FENICE DI VENEZIA
L'Italiana in Algeri is an operaticdramma giocoso in two acts by Gioachino Rossini to an Italian libretto by Angelo Anelli, based on his earlier text set by Luigi Mosca.
Decima has created the Sailing Ship scenography, for this production.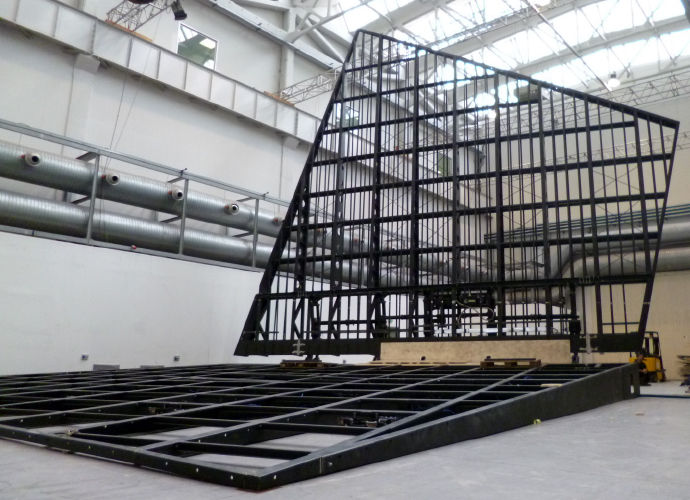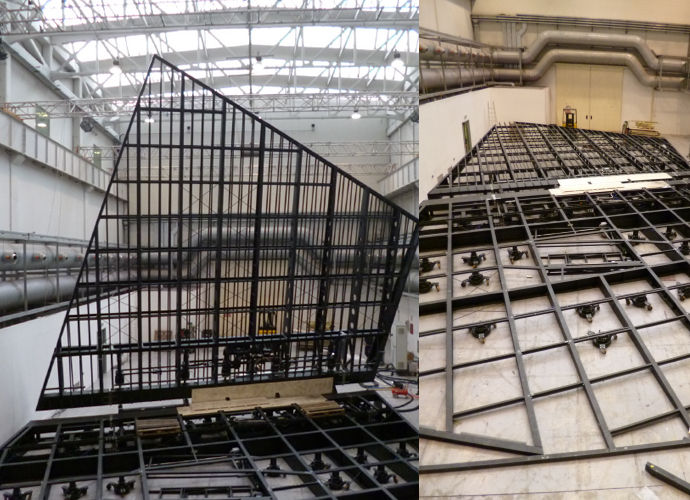 MILAno - TEATRO ALLA SCALA
GIULIETTA E ROMEO - BOOK
Decima has developed a very big book scenography with 200 m2 of pages - movable cushioned dance floor, covered with a dance mat, metal structure with electromechanical drive devices for 180 ° rotation of one of the two pages – the whole installed on pivoting wheels with pneumatic lifting movement.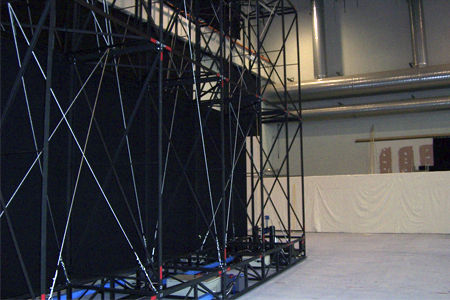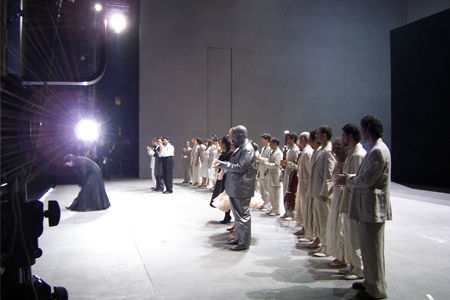 don giovanni
RADIO CONTROL MOVABLE WAGONS
Decima has developed two radio-controlled Wagons for this Mozart Opera production. The wagons are designed for free movement on the stage, with additional movable deflectors and bright screens.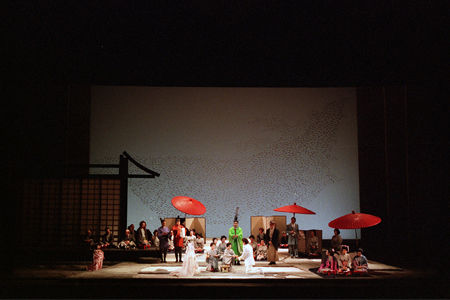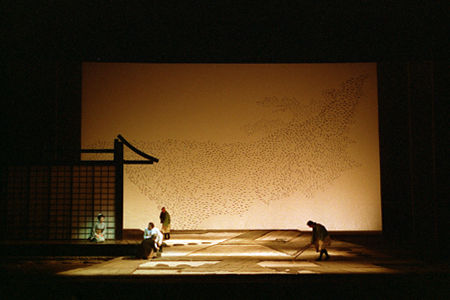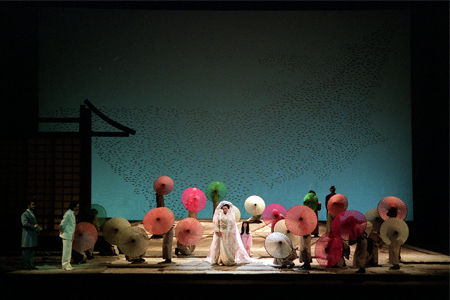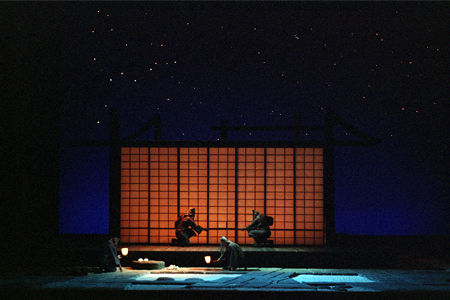 madame batterfly
INCLINED FLOOR
For this Puccini Opera production, Decima has developed a Sloping moving Floor, with wagons in several modules, included upper tracks for sliding movement.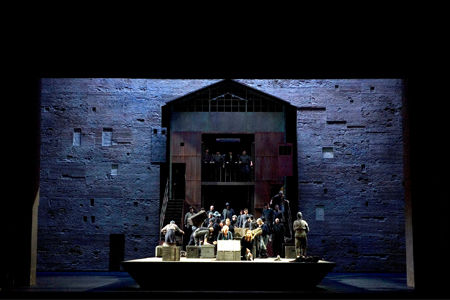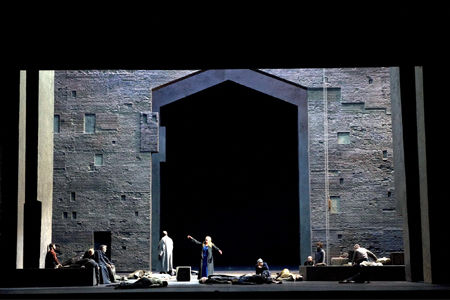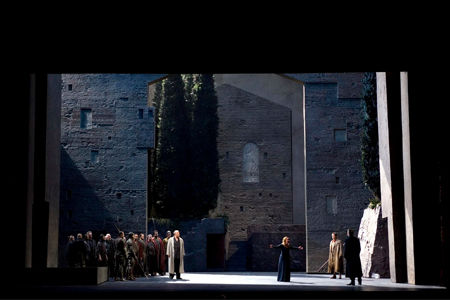 tristan AND isotta
RADIOCONTROLLED SHIP MOTORIZATION
for this Wagner Opera production, Decima has developed five synchronized Radio-Controlled Wagons for the movement of a Vessel.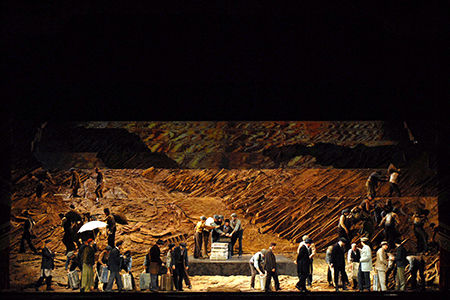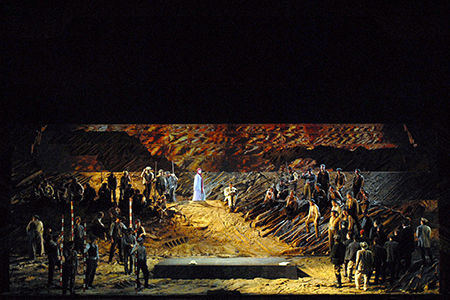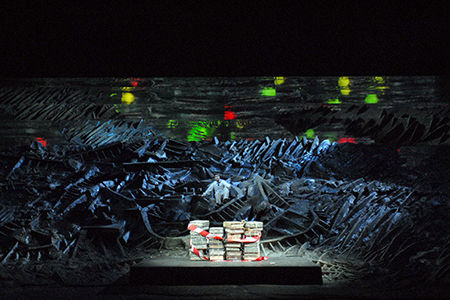 TENEKE
SUPPORTING MOVABLE STRUCTURE
For this Fabio Vacchi Opera production, Decima has developed a Mobile Support Structure, for the sculpture designed by Arnaldo Pomodoro.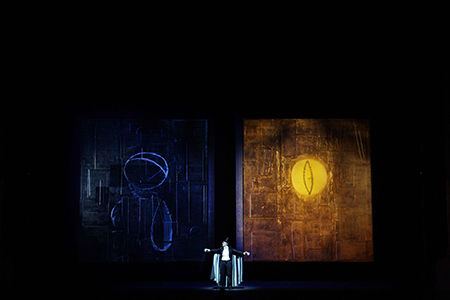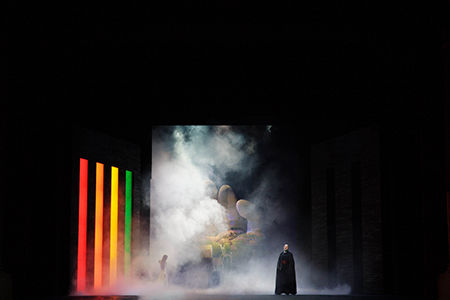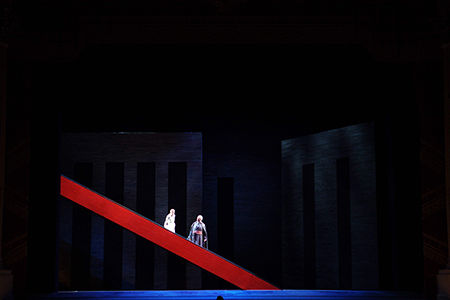 BARBABLU'
RADIO CONTROLLED MOVING TROLLEYS
For this Béla Bartók Opera production, Decima has developed three Radio-controlled Wagons, for free movements into the stage.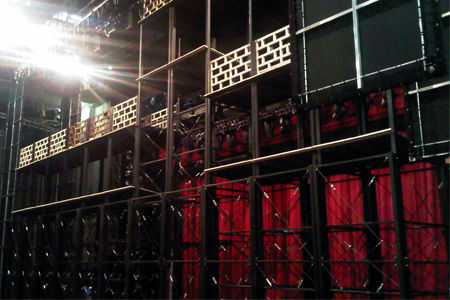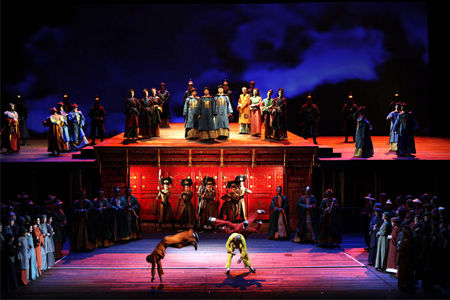 TURANDOT
MOVABLE SETS
For this Giacomo Puccini Opera production, Decima has developed a complex of seven towers to support the Scenography. The 3,50 meters vertical movement is activate by electromechanical Spiralift System actuators.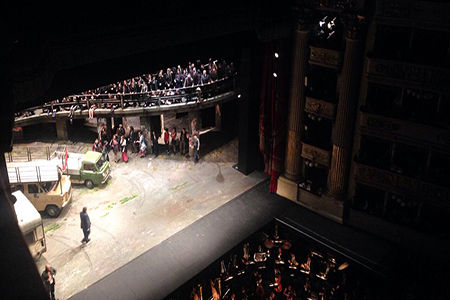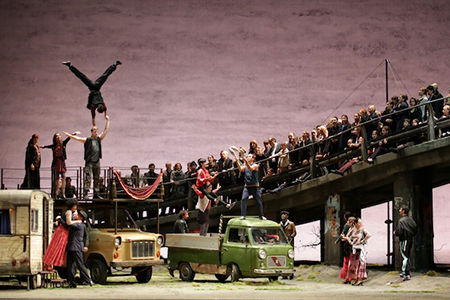 i pagliacci
CARS ELECTRIC MOVEMENT
For this leoncavallo Opera production, Decima has electrified four vintage little vans.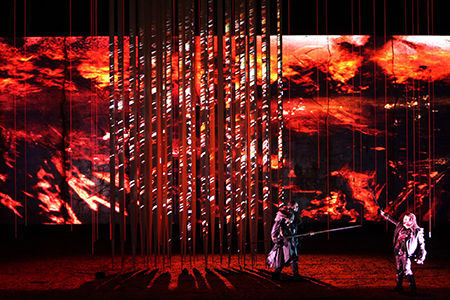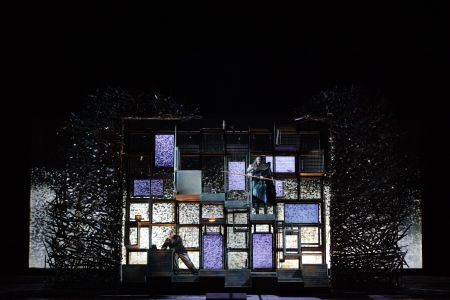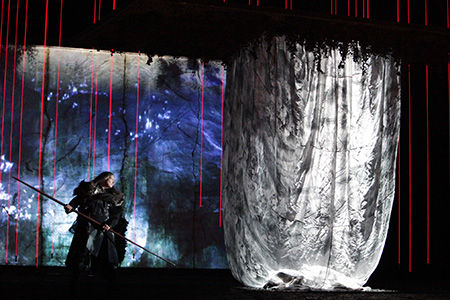 siEgfrid
MOBILE SCENOGRAPHY
For this Richard Wagner Opera production, Decima has developed three Movable Wagons activated by electromechanical actuators, with additional sliding wall, based on the Director's design.
TORINO - TEATRO STABILE
DANTON'S DEATH
Realization of the 5 velvet curtains for opening or Greek either Italian method with double diagonal opening to allows various scene configurations.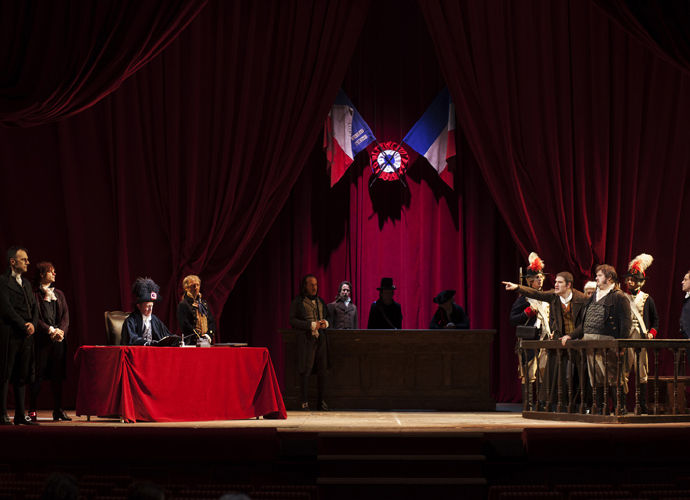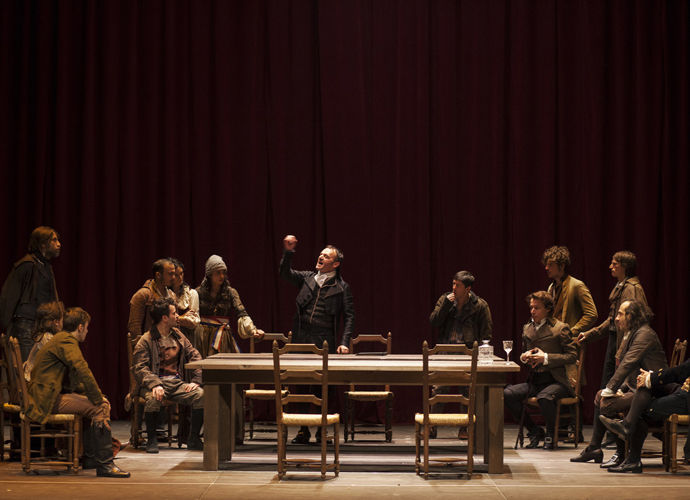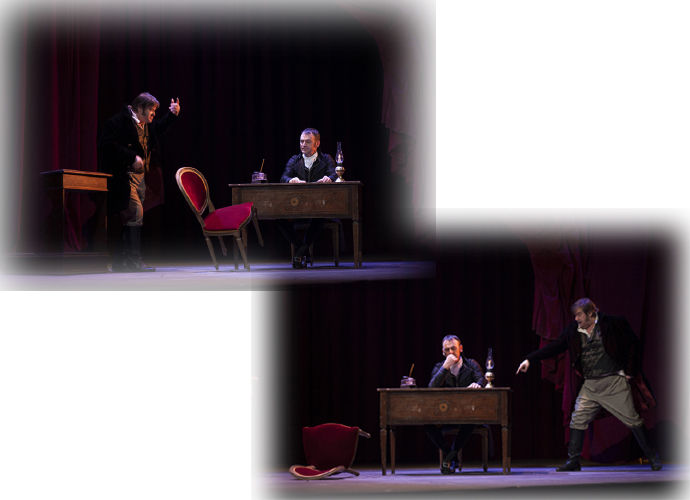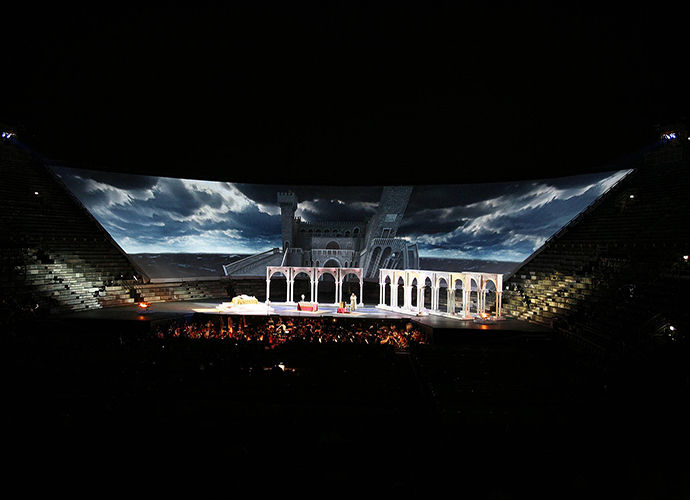 arena -verona
GALA 40° PLACIDO DOMINGO
On July 24th, 2009 the Arena di Verona organized a gala dedicated to Placido Domingo to celebrate the fortieth anniversary of his debut at the Arena.
The production consists in the creation of a big surface, suitable to show a video scenography. The screen surface is placed in the tiers behind the stage, to cover a sloping surface of 2.200 sq.m. about. The whole surface, fan-shaped, is divided into 22 parts of trapezoidal shapes. Furthermore another two smaller elements are placed centrally, above the stage door. In order to respect the safety requirements, the production is foreseen for a maximum windspeed of 80 km/h. Therefore a suitable floor anchor system has been studied, also keeping in mind the historical venue where it had to be installed.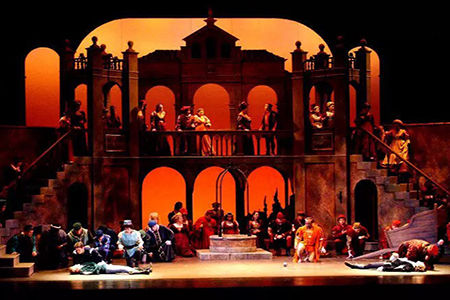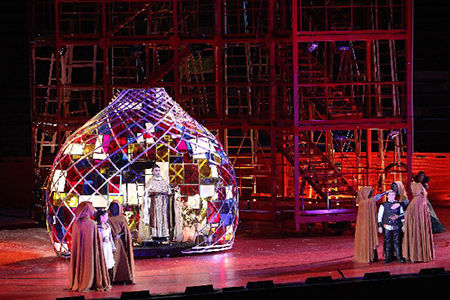 romeo e giulietta
MOVABLE SETS
Realization of scenography with several moving elements consisting of two semicircular structures, with three floors for the transport of 200 singers, with radio-controlled movement, and winged vehicle for the singer transport.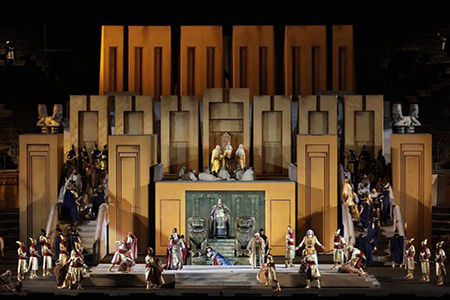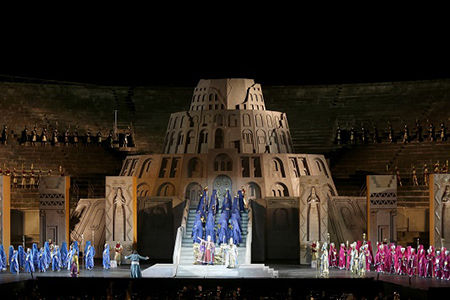 nabucco
MOBILE TOWER
Structure in metallic carpentry with oleodynamic drive for the movement of scenographic elements to simulate the collapse of the tower of Babel.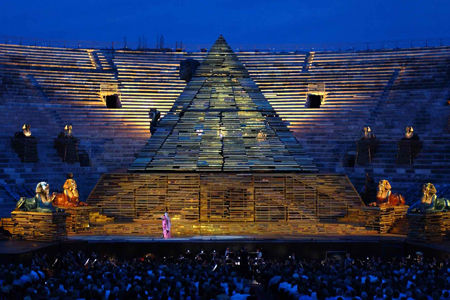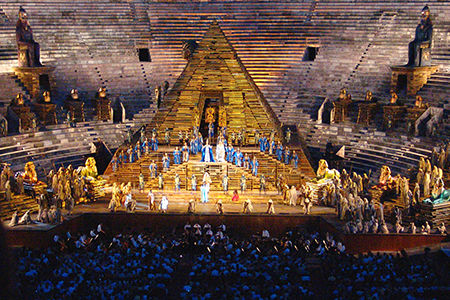 aida
IFTING WINCHES
No. 4 winches for supporting scenographic covering.
CONTROL OF MOVABLE STRUCTURES SYSTEMS
Hydraulic, electromechanical and electronic system to move the "parabola" .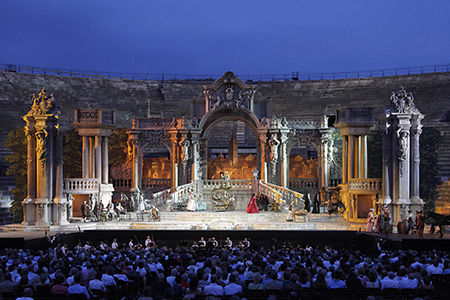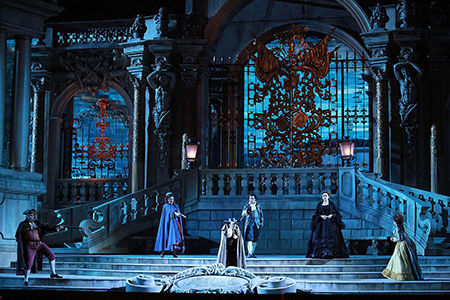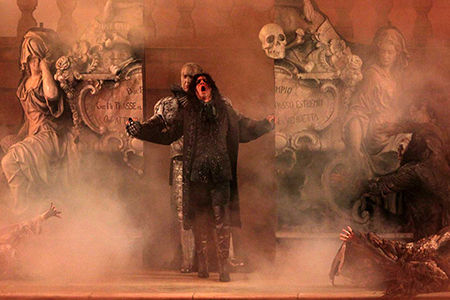 DON GIOVANNI
Grave, gates and mobile towers movements.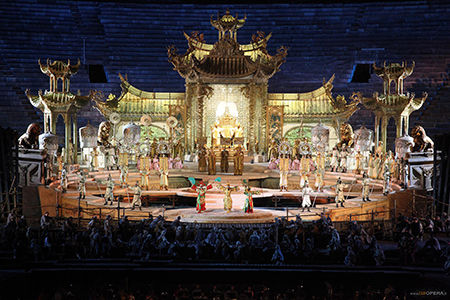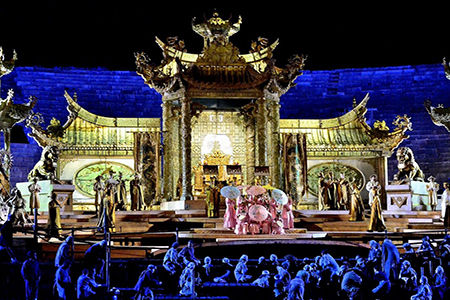 TURANDOT
MOBILE CURTAIN AND OVAL PLATFORM
Large curtain (m 30.00x7.00) realized with a metal structure with painted scenographic elements consisting of 10 radio-controlled panels, movement on parallel semicircular rails - oval-shaped platform with hydraulic drive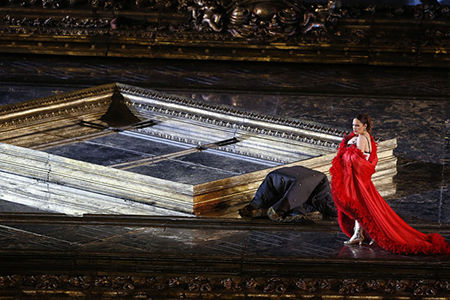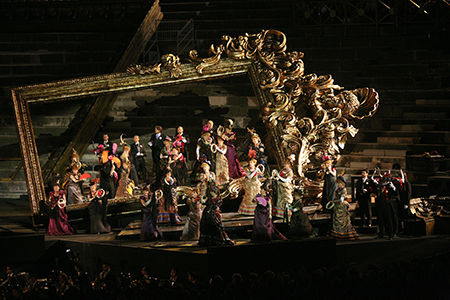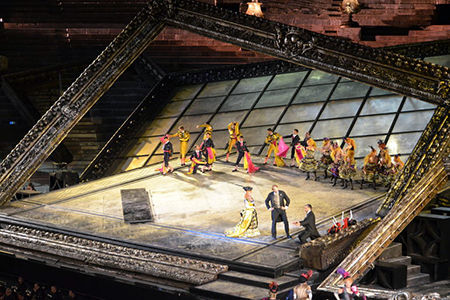 TRAVIATA
Creation of fixed and mobile frames and sloping glass in the back. Sets realized in co-operation with firm of Florence for sculptures, coordination of sculptural activities realized according to the sketch of the director Hugo Deana.