Stage curtains
HALL CURTAINS
DOOR CURTAINS
The curtains at the entrance hall doors and in the boxes, are usually in double velvet, with richness calculated for the characteristics to be obtained: sound absorption, thermal insulation, sound insulation in the prossimity of corridors.
The curtains for service doors, toilets, booths and various rooms are realized with a side lined with fabric and sometimes unlined.
The curtains of the foyers, bars, and ancillary rooms dedicated to the audience are designed respecting the style and existing decorations of the building.
They are in a single piece or in two parts completed with velvet bracelets and bracelets for the lateral collection.
The suspension takes place either on tubular in various shapes, or on a wooden valance covered with velvet-fabric or completed with a shaped and decorated valance.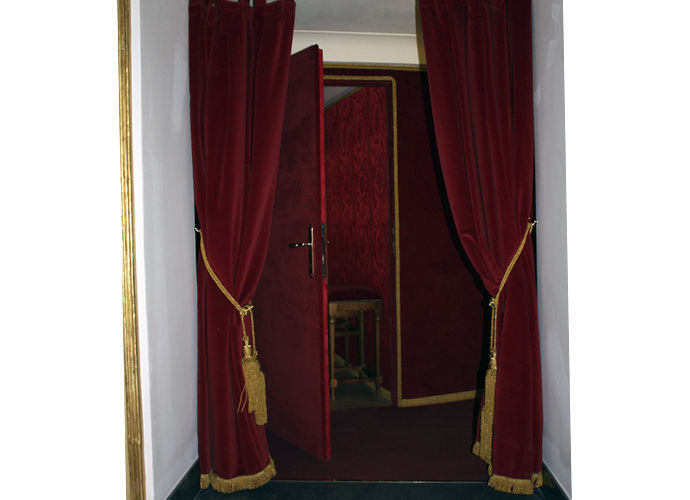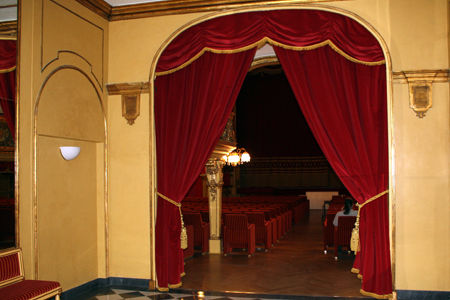 TORINO - Teatro Carignano
Curtains at the doors in red velvet as stage main curtains and white damask for the foyer.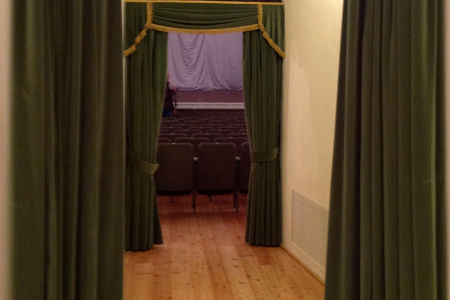 BADIA POLESINE - TEATRO SOCIALE
Curtains at the doors in green velvet, green velvet valances on boxes decorated with golden passementeries.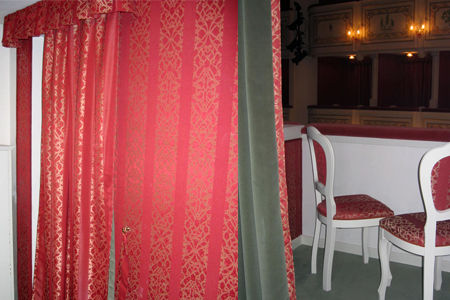 SAN VITO AL TAGLIAMENTO - TEATRO ARRIGONI
Curtains for entrance of boxes realized in green velvet on corridors side and in red damask on side of boxes, the same of the wall covering.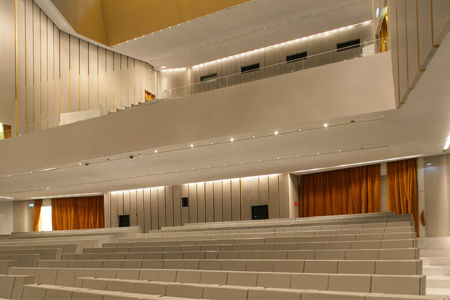 MILANO - AULA MAGNA UNIVERSITÀ BOCCONI
The curtains on the doors were made in double velvet without richness. Inside the two velvet coating it has been inserted a polyester fiber foil and quilted stitching. This type of curtain guarantees a very high absorption of voices and noises from the access corridors.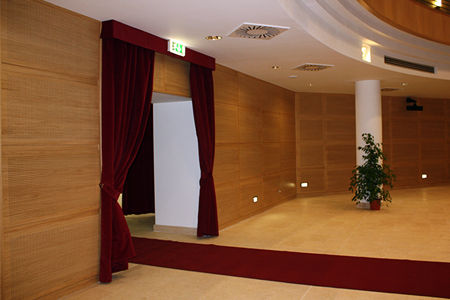 ARZACHENA - AUDITORIUM COMUNALE
Curtains on the doors realized in double velvet with richness, wooden valance covered in velvet and side fastening bracelets.